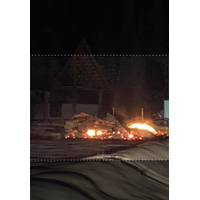 As you might have heard or seen on the news/media, our Gloria's shelter, located at km 31 Sawmill Road, Kamloops, at our site by the main chalet, have been set on fire and burned down to the ground by arsonists last week. It is a big set back for the club as we are getting ready for this coming season. The RCMP were called at the site and, later that same day, were able to identify 4 suspects. The matter is still under investigation. KSA and their volunteers are doing everything they possibly can to rebuild right away and are confident that our Gloria's shelter will be replaced by December.
We want to thank everyone who sent us messages of support and/or donations; they are greatly appreciated. Our shelters are particularly important and valued by all users.
Should you want to help and/or give a donation, contact us at email@kamloopssnowmobile.com.
---